Why CBD is a good decision for your business.
Is CBD a good decision for your business? Should you carry CBD products? There are many compelling reasons to do just that, so we'll provide a deeper dive into why.
Customer demand.
A recent Consumer Reports study revealed that 40% of Americans are interested in trying CBD, and 26% already have tried it. What's fueling all of the hype and current public interest in CBD? Since the 2018 Farm Bill federally legalized hemp you can find it everywhere, from small local retail shops to some of the country's largest retailers. Plus, people are becoming more interested than ever in health and wellness, including more natural products and fewer prescription drugs. Learn more about consumer demand for CBD here.
Massive potential profits.
Another reason CBD is a good decision for your business is the potential for profits. CBD products generated an estimated $2 billion in revenues last year, according to the investment firm, Cowen Inc. That's a hefty sum. However, it is a drop in the bucket when you compare it to where the industry is poised to go. The Brightfield Group projects CBD to be a $22 billion industry within the next two years.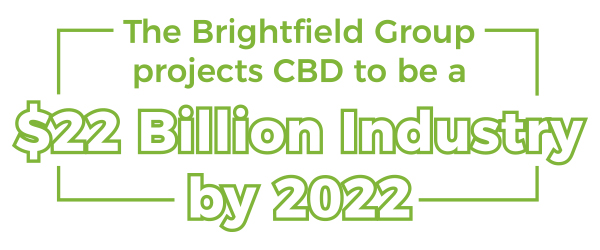 Understanding the potential profits out there, some of the biggest retailers in the country are joining the CBD sensation. Some include:
Sephora
Neiman Marcus
Walgreens
CVS
Swanson Vitamins
Thrive Market
GNC
As you can see, these are some of the largest retailers in the country with hundreds of locations.
CANVIVA CBD offers high-profit potential per square foot of space in your business. A case containing 16 CANVIVA tinctures with an MSRP of $65 will generate $531.20* of profit. If you sell just one tincture a day at $65, the profit to your business is over $900** per month.
Legal doors continue to open for CBD.
So why all the confusion over whether CBD is legal to produce, sell, and purchase?
Some of the misunderstandings stem from similarities between hemp-based CBD and marijuana. Not only do hemp and marijuana plants look similar, but both can have an impact on the endocannabinoid (ECS) system.
Still, they're entirely different substances with different legal stipulations. The CBD sold legally in the U.S. market is produced from hemp, not marijuana. It doesn't contain nearly enough of the psychoactive ingredient THC to produce a "high" in the user.

Now for the legal bottom line.
The Department of Agriculture regulates CBD, thanks to the
2018 Farm Bill
. It is legal to produce, sell, and use nationwide as long as it's derived from hemp grown by a licensed grower under a given set of regulations. To be sold in the U.S., the CBD must contain less than 0.3% THC.
While the Farm Bill makes CBD easier to sell, any business selling it should keep the following in mind:
Each state maintains its regulations for CBD commerce. It is legal to purchase and sell hemp-derived CBD in the U.S., but you should check with your municipality and state for any restrictions that may apply.
Also, the FDA monitors CBD and has prohibited food products containing CBD from being sold across state lines or being marketed as dietary supplements for human or animal consumption.
Still have questions?
Contact us
at CANVIVA or download our free ebook:
What Every Business Needs To Know About Selling CBD.
Ebook: What Every Business Needs to Know About Selling CBD
Your go-to resource for everything you need to know about selling CBD, including CBD research highlights from Harvard, Medical News Today, Consumer Reports and others; the legality of CBD; the features to look for in any solid CBD product line; and the major national retailers now selling or preparing to sell CBD products.
*Based on a single case order of 500mg tincture. Does not include SOLUBLE and/or 1500mg tincture.
**Profit is calculated on a 30 day cycle from only selling 500mg tincture. Estimate does not include SOLUBLE and/or 1500mg tincture.
 ALL PRODUCTS CONTAIN LESS THAN 0.3% THC AND ARE LEGAL IN ALL 50 STATES. The statements made regarding these products have not been evaluated by the food and drug administration (FDA). These products are not intended to diagnose, treat, cure or prevent any disease.
By using this site you agree to follow CANVIVA's Terms & Conditions, Return Policy, and Privacy Policy posted at the bottom of this site. We only ship to U.S. states.