CANVIVA Sweet Tea with CBD is a refreshing treat. It's perfect for a backyard barbeque, a gathering of friends and family, or anytime you want to cool down and chill out.    
This recipe is made with CANVIVA SOLUBLE CBD  which is formulated for use in foods and beverages. Our SOLUBLE CBD blends perfectly and is a perfect way to add the benefits of CBD to all your favorite recipes. 
Sweet Tea With CBD
INGREDIENTS
4 cups hot water
1 cup sugar
2 cups cold water
10 fresh mint leaves
12 individual tea bags
1 lemon
Ice
8ml CANVIVA SOLUBLE  CBD
INSTRUCTIONS
Heat 4 cups of water to near boiling

Add sugar and stir until it fully dissolves 

Add mint leaves and tea bags 

Steep for 5 minutes then remove tea bags and mint leaves 

Add two cups of cold water then chill in the fridge

After tea has cooled add lemon wedges and ice

Fill glasses with ice and add 2ml of CANVIVA SOLUBLE CBD to each 

Pour the tea into the glasses 

Garnish with lemon wedges and a sprig of mint.  
Makes 4 Servings 
Enjoy this recipe and please share a photo on Instagram @canviva_official!  
Find More CBD Recipes

---
Tested For Your Safety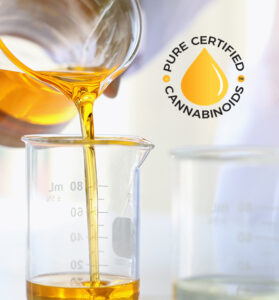 CANVIVA makes all of our tinctures with PURE CERTIFIED CANNABINOIDS™ oils derived from U.S. grown organic hemp. Solvent-free, free of pesticides and other impurities, and produced under strict manufacturing practices, each batch is third-party tested for contaminants and cannabinoid content. With CANVIVA you can be 100% confident that you are getting the highest quality products available anywhere.
We understand that quality assurance and product safety are critical to gaining your loyalty and earning your trust. With little regulation in the marketplace, this is more important than ever. Many brands claim to test their products but make it difficult to find these results, or worse yet, don't make them available at all. You can find a third-party lab test COA (Certificate of Analysis) on each individual CANVIVA product page.
---
ALL CANVIVA PRODUCTS CONTAIN LESS THAN 0.3% THC AND ARE LEGAL IN ALL 50 STATES. The statements made regarding these products have not been evaluated by the food and drug administration (FDA). These products are not intended to diagnose, treat, cure or prevent any disease.