Pure Certified Cannabinoids™
Our Difference.
What makes CANVIVA different? Our PURE CERTIFIED CANNABINOIDS™ .
CANVIVA is proud to carry the PURE CERTIFIED CANNABINOIDS seal on all of our products. Our certification goes beyond many other certification program standards. It is our guarantee, from soil to seed to extraction to certification to bottling, that our cannabinoid oils – CBG, CBD, and CBN – are tested for purity, quality, and safety.
We understand that quality assurance and product safety are critical to gaining your loyalty and earning your trust. With little regulation in the marketplace, this is more important than ever. Many brands claim to test their products but make it difficult to find these results, or worse yet, don't make them available at all. We list all of our product test results on our COA (Certificates of Analysis) page.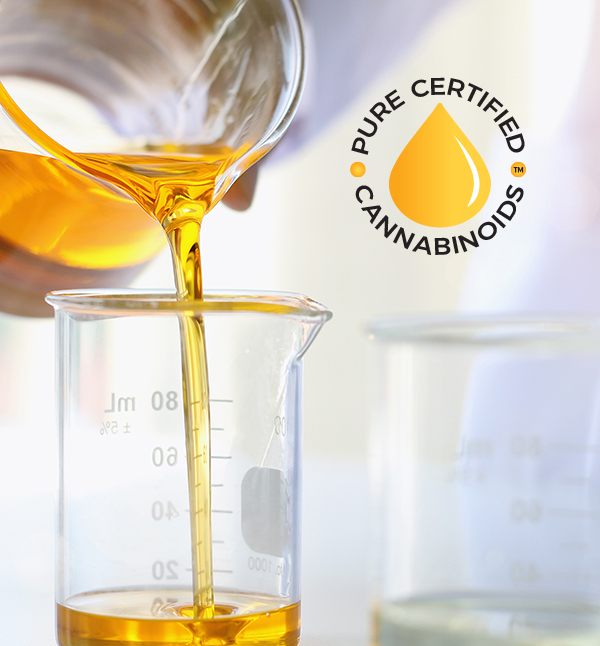 CANVIVA PURE CERTIFIED CANNABINOIDS are:
1. Derived from U.S. grown, organic industrial hemp
2. Traceable back to the crop/licensed grower
3. Produced under strict manufacturing practices (GMPs)
4. Extracted via food-safe ethanol, best for preserving cannabinoids, terpenes, and other naturally occurring compounds found in full spectrum oils
5. Third-party, lab tested for contaminants and cannabinoid quantification: solvent-free; pesticide free; free of heavy metals and other impurities; contains less than 0.3% THC.
6. Non GMO
7. Made in the U.S.
Our Cannabinoid Oils Are:

Our Advantage.
Full spectrum CBD Oil tinctures specially formulated with you in mind.
Tinctures are one of the most popular forms of CBD and one of the most effective due to their high bioavailability.
Our phytocannabinoid-rich full spectrum CBD oil tinctures include formulations to help address a variety of health concerns ranging from anxiety to sleep to inflammation to digestive issues and more. Our tinctures combine PURE CERTIFIED CBD Oil with MCT oil for easy digestion as well as essential oils and other natural ingredients identified for enhancing the benefits of the CBD.
Find the right CBD Oil tincture for you now.
 ALL PRODUCTS CONTAIN LESS THAN 0.3% THC AND ARE LEGAL IN ALL 50 STATES. The statements made regarding these products have not been evaluated by the food and drug administration (FDA). These products are not intended to diagnose, treat, cure or prevent any disease.
By using this site you agree to follow CANVIVA's Terms & Conditions, Return Policy, and Privacy Policy posted at the bottom of this site. We only ship to U.S. states.