The quality and safety of our products is of highest importance to CANVIVA. Many companies make questionable claims about their CBD products, sell products that have not been third-party tested, or offer CBD that does not comply with federal requirements. Finding a brand you can trust can be a challenge. That's why every bottle of CANVIVA includes a QR code which links to Our Assurance of CBD Quality and Safety webpage. The page includes third-party test results for all our CBD products, providing you with complete transparency. 
How To Find Test Results Using the CANVIVA QR Code
All CANVIVA CBD products are tested for purity, potency, and safety by accredited, independent laboratories. These test results are also known as a Certificate of Analysis or COA for short. Our Assurance of Quality and Safety webpage includes all of the third-party test results for our CBD products. Here's how you can find test results for your CANVIVA CBD product.     
1. Find the QR code on a tag hanging from the bottle or printed right on the product label.   
2. Scan the QR code, using your smartphone camera or app, or if you don't have a QR reader on your phone, simply visit the Quality – Safety page on the CANVIVA website.
3. Locate the product you want to learn more about and click on it.
4. For each product you will see a link: "View Test Results (COA) Lot #". Your product specific lot number is found stamped on the bottom of the product.
5. Click on the appropriate lot number hyperlink and it will open the Certificate of Analysis (COA) for that product.
6. The COA shows the percentages of CBD, THC and other cannabinoids and terpenes found in your product. Use our guide How To Read A Certificate of Analysis (COA) if you need help.
7. We test our CBD for harmful substances including solvents, toxins, pesticides, mycotoxins, and heavy metals. These tests are performed using the bulk CBD before it is used in our individual products and can be found at the bottom of the page under "In Depth Bulk Test Results for PURE CERTIFIED CBD."
Transparency and easy access to the COA is important for ensuring a safe product. CANVIVA works hard to ensure we meet legal requirements in each individual product and provide pure and potent CBD tinctures and topicals that our customers can trust.
---
Tested For Your Safety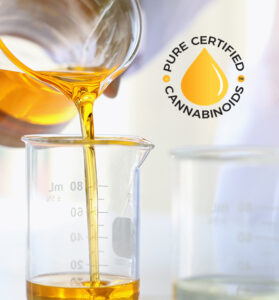 CANVIVA makes all of our tinctures with PURE CERTIFIED CANNABINOIDS™ oils derived from U.S. grown organic hemp. Solvent-free, free of pesticides and other impurities, and produced under strict manufacturing practices, each batch is third-party tested for contaminants and cannabinoid content. With CANVIVA you can be 100% confident that you are getting the highest quality products available anywhere.
We understand that quality assurance and product safety are critical to gaining your loyalty and earning your trust. With little regulation in the marketplace, this is more important than ever. Many brands claim to test their products but make it difficult to find these results, or worse yet, don't make them available at all. You can find a third-party lab test COA (Certificate of Analysis) on each individual CANVIVA product page.
---
ALL CANVIVA PRODUCTS CONTAIN LESS THAN 0.3% THC AND ARE LEGAL IN ALL 50 STATES. The statements made regarding these products have not been evaluated by the food and drug administration (FDA). These products are not intended to diagnose, treat, cure or prevent any disease.