Is CBD Safe For My Pet?
The saying goes that a dog is "man's best friend." However, cat owners might just push back with a line from Disney's movie Homeward Bound, saying, "Cats rule and dogs drool." Regardless of whether you are a dog lover or a cat lover, you may be wondering, is CBD (cannabidiol) safe for my pet?
All kidding aside, pet owners consider their furry friends family members. They also regard the health of their pet(s) as important as their own. In fact, according to a recent report by the American Pet Products Association (APPA) Americans spent $18.11 billion on veterinary care and another $15.11 billion on OTC medications in 2018 alone.
Relaxation, comfortable joints and muscles, and a balanced digestive system are important to pets and their owners.
What is CBD and how does it work?
Before answering the question, is CBD safe for my pet, let's talk about what CBD is and how it works. CBD or cannabidiol is one of many compounds (cannabinoids, or more specifically phytocannabinoids) present in cannabis (both hemp and marijuana). Cannabinoids (in particular CBD) have been found to influence the endocannabinoid system (ECS), which helps keep your body functions in balance.
Like you, cats and dogs have an ECS (in fact all animals do), and like you, CBD reacts to receptors found throughout their bodies. This is why CBD may work in similar ways for pets as it does for their humans. However, dosages do vary.
What you should know about CBD for pets.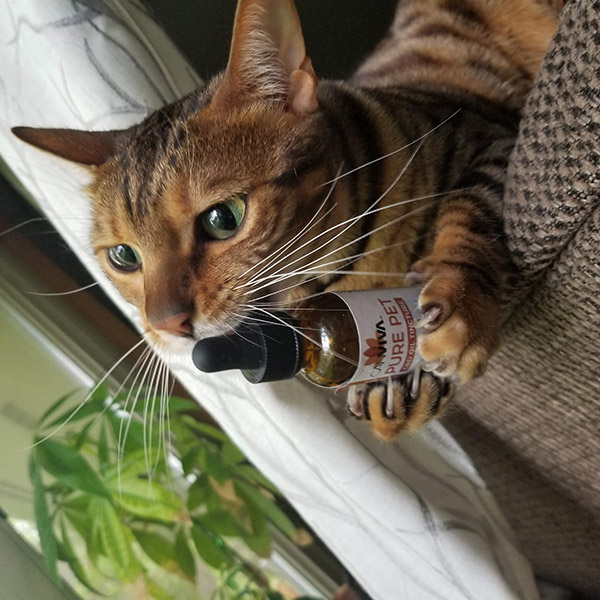 Researchers are working to understand how to use CBD for pets, as well as what doses to give them. To learn more, you may want to read this Consumer Reports article.
So, is CBD safe for your pet? Yes. However, CANVIVA recommends that you talk to your vet before administering CBD to your dog or cat. He or she can make recommendations regarding dosing and can monitor for drug interactions or side effects.
It's also important to follow the same stringent guidelines you would use for choosing a CBD product for yourself. These include:
Derived from U.S. grown, organic industrial hemp

Traceable back to the crop/licensed grower

Produced under strict manufacturing practices

Extracted via food-safe ethanol, best for preserving cannabinoids, terpenes, and other naturally occurring compounds found in full spectrum CBD

Third-party, lab tested for contaminants and cannabinoid quantification

Solvent-Free

Pesticide Free

Free of heavy metals and other impurities

Contains less than 0.3% THC (large amounts can be toxic for pets)

Non-GMO

Made in the U.S.

Clear labeling on the package for accurate dosing

Natural ingredients
We also recommend full spectrum CBD containing a wide range of cannabinoids, terpenes, and other naturally occurring elements which work together to boost effectiveness.
How to use CBD for your dog or cat.
CBD oil tinctures can be given from the bottle directly into the mouth. It can also be added to food, treats or rubbed into bare skin or inside the ears. Another trick is to place it on your pet's paw so they will lick it off.
We advise pet parents to start "low and go slow" when figuring out what the right amount is for their cat or dog. Decrease or increase dosage as necessary to reach the desired effect.
REGULAR DOSE: One (1) drop per 5 pounds of body weight.
STRONG DOSE: Two (2) drops per 5 pounds of body weight.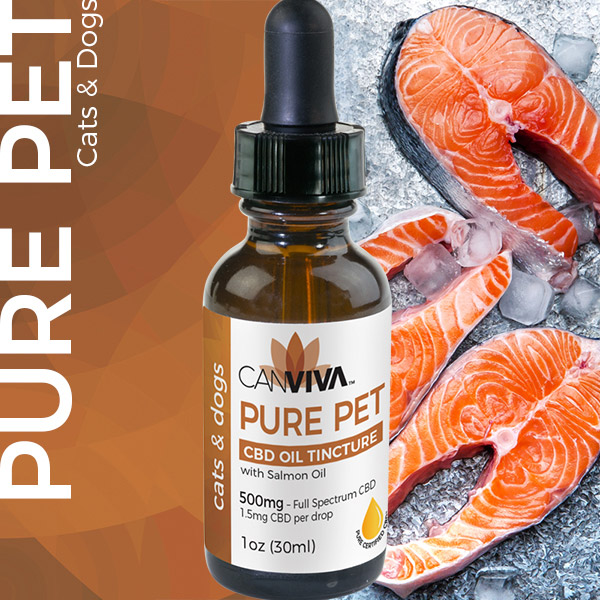 You can give CBD when you notice symptoms, but for most situations you will want to give a daily dose to maintain wellness. To help you find the right dose for your cat or dog, we recommend using this free CANVIVA PET CBD Dosing Journal.
Finally, choose a brand you can trust, one that is natural, pure, and effective. CANVIVA™ manufactures its PURE CERTIFIED™ CBD Oil from U.S. grown hemp that is traceable back to the grower. Our seal is our guarantee to you (and your pet) that our CBD oil is solvent-free, pesticide-free, paraben-free, and free from impurities. Our CBD is also non-GMO and cruelty-free. When we say trust us, there is a difference, we mean it.
Plus, we think your furry friend will love the naturally delicious taste of the Salmon oil that is in our PURE PET CBD Oil Tincture.