How To Take A Tincture
Get the most out of every dose of CBD tincture.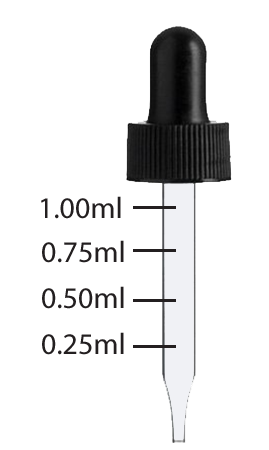 While the bottle is closed, shake well. Then pinch and release the rubber bulb to fill the dropper.
Unscrew the lid and adjust the amount in the dropper to your desired dose.
Place dose under your tongue. Let it stay there from one to five (1-5) minutes without swallowing. After the desired amount of time, swallow the rest of the tincture. This sublingual method allows the CBD to diffuse into your bloodstream through tissues under the tongue.
Start with 1/4 or 1/2 of the recommended dose. Increase or decrease subsequent dosages to reach desired effect. Tinctures may be taken once or twice a day or spread throughout the day by micro-dosing.
For those of you wanting to add CBD to your beverages or food, we also offer a water-soluble tincture.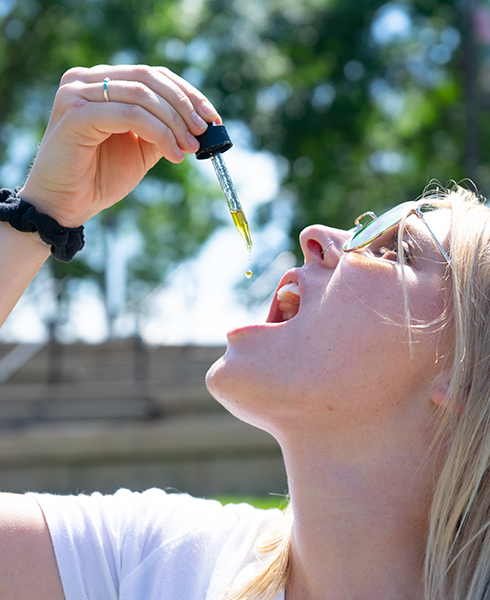 What is CBD?
CBD (cannabidiol) is a naturally occurring compound found in cannabis. Unlike THC, it is non-psychoactive, so it won't get you high. Recognized for its benefits for humans and animals, CBD may help the endocannabinoid system (ECS) keep your body in balance.
Choosing the right tincture.
Tinctures, also known as CBD oils, are one of the most popular CBD products and one of the most effective. They are easy to take, convenient, discreet, and allow for accurate dosing. In addition, when taken sublingually, they have high bioavailability making them more effective. CANVIVA CBD oil tinctures combine PURE CERTIFIED CBD™ Oil with MCT oil to make them easier to metabolize. We have formulations to address a variety of health concerns. They include digestive, energy, stress, cognitive, muscle, and sleep support.
Things to consider when choosing how to consume CBD.
CBD acts on the body's cannabinoid receptors similarly to endocannabinoids found naturally in the body. They are thought to help regulate numerous biological functions (CBD and Your Endocannabinoid System). CBD can take different routes through the bloodstream, to get to receptors in the brain depending on how you consume it.
When choosing how to consume CBD, you will want to consider if the product provides systemic or localized relief, onset time, and relief duration, among other things. Despite being an easy method of delivery, swallowing CBD is not particularly efficient. It can take longer (as much as two hours) while absorbing lower concentrations as it passes through the digestive and metabolic systems, reducing its bioavailability compared to the sublingual method. Other factors that impact product efficacy include dose, product preparation, and your unique metabolism.
 ALL PRODUCTS CONTAIN LESS THAN 0.3% THC AND ARE LEGAL IN ALL 50 STATES. The statements made regarding these products have not been evaluated by the food and drug administration (FDA). These products are not intended to diagnose, treat, cure or prevent any disease.
By using this site you agree to follow CANVIVA's Terms & Conditions, Return Policy, and Privacy Policy posted at the bottom of this site. We only ship to U.S. states.