Fourth of July is a day filled with celebrations, gathering with friends and family, and fireworks.  However you choose to celebrate this day, be sure to make plans for your pet as well. Fireworks can be frightening and stressful for cats and dogs. There are many things you can do to prepare a safe space for your pet, and CBD may help your pet during fireworks.  
"Cats have extremely sensitive ears, so fireworks are extra traumatic and many dogs will typically do anything to escape the noise such as digging under fences, breaking through windows, or running through gates," wrote Madison Vanderburg in the Insider article, How to Take Care Of Your Pet During Fireworks. 
More pets run away around the Fourth of July than any other time of year, so if you have a pet be sure to take precautions. These tips may also help during thunderstorms and parties when there may be extra noise and commotion.   
Tips to keep your pet safe and comfortable:  
1. Update your pet's collar and microchip. Make sure your address and phone are current. During parties, your pet could slip out as people are going in and out of your home. If your pet doesn't normally wear a collar, you may want get one for them to wear.      
2. Leave your pets at home, inside. Don't take them to fireworks shows, outdoor gatherings, or unfamiliar places where they could become separated and lost. You may also consider staying home with your pet to help ease their fears.
3. Keep pets in a quiet room or crate. Whether you are away or stay home with your pet, be sure they are in a room, crate, or other space where they feel safe.
4. Use TV or radio to help muffle loud noises. Try playing a soothing program or music for your pet. Treats and toys can also be a distraction, and will keep your pet occupied. TIP: Try freezing your pet toys to help keep them cool.
5. Get plenty of play and exercise beforehand. Physical activity and playing with toys may help tire your pet out before the fireworks. They may be more relaxed and sleep through the noise if they have had plenty of exercise.
6. Try an anxiety vest (such as Thundershirt) or tight fitting shirt for your pet. This can be comforting for some pets.
7. CBD may help restore balance and calm to your pet's endocannabinoid system.  Dr. Ibrahim Shokry, professor at the Ross University School of Veterinary Medicine said, "CBD is generally safe to use on pets if you're buying pet products from a reputable source and use them in the correct dose. The substances' sedating and calming effects may help the animals cope with…fireworks."  Could CBD Calm You Dog's Anxiety During Fourth of July Fireworks? HuffPost.
CANVIVA PURE PET CBD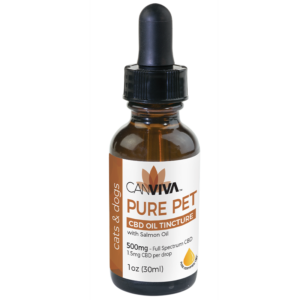 is formulated with Salmon Oil, and pets love the taste. If you are trying CBD with your pet for the first time, you may want to give them a small dose a few days before the Fourth of July fireworks or other stressful event, to see how they respond. CANVIVA offers a FREE CBD Dosing Journal for Pets so you can keep track of how much CBD was given and how your pet responds.
Here's what one CANVIVA customer said when he tried PURE PET with his cat, "The CBD has been a blessing and so easy to use. Just put some in the food and she gobbles it up! Even our vet noticed how chill she was this time for her check up! Thanks CANVIVA,"  Justin, Nashville TN.   
---
Tested For Your Safety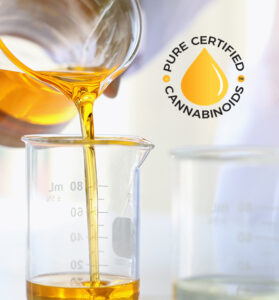 CANVIVA makes all of our tinctures with PURE CERTIFIED CANNABINOIDS™ oils derived from U.S. grown organic hemp. Solvent-free, free of pesticides and other impurities, and produced under strict manufacturing practices, each batch is third-party tested for contaminants and cannabinoid content. With CANVIVA you can be 100% confident that you are getting the highest quality products available anywhere.
We understand that quality assurance and product safety are critical to gaining your loyalty and earning your trust. With little regulation in the marketplace, this is more important than ever. Many brands claim to test their products but make it difficult to find these results, or worse yet, don't make them available at all. You can find a third-party lab test COA (Certificate of Analysis) on each individual CANVIVA product page.
---
ALL CANVIVA PRODUCTS CONTAIN LESS THAN 0.3% THC AND ARE LEGAL IN ALL 50 STATES. The statements made regarding these products have not been evaluated by the food and drug administration (FDA). These products are not intended to diagnose, treat, cure or prevent any disease.