1. CBD Is No Longer A Controlled Substance
.
In December 2018, the President signed the farm bill into law. "That's good news for consumers," says Lisa Gill in a Consumer Reports (CR) article. That's because CBD (cannabidiol) is no longer a "Schedule I" controlled substance making it easier to find for those looking to leverage its potential benefits.
According to CR, legalizing hemp in the U.S. could mean doubling or tripling cultivation within the next year. In a nationally representative survey conducted in November 2018, CR found that 15% of adult Americans had tried CBD with a majority (85%) indicating it helped.
What does all of this mean for you? More CBD products to choose from and more information for savvy consumers like you to navigate.
2. CBD & THC Terminology Can Be Confusing
Cannabinoids. Cannabidiol. Tetrahydrocannabinol. It's easy to become overwhelmed by the vast terminology surrounding cannabis. So where do you begin? A great place to start is learning what CBD and THC are and how they are alike and different.
3. CBD & THC Come From Cannabis
Cannabis is a genus of flowering plants in the family Cannabaceae. The two most widely recognized species are Cannabis sativa and Cannabis indica.
There are several differences between Cannabis sativa and Cannabis indica plants. These include height, leaf size and structure, bud size and density, flowering time, and the effect they have on the body. Both species contain CBD, THC, and other cannabinoids. Indica strains are considered more psychoactive while Sativa strains are considered more functional.
Indica plants tend to grow shorter and bushier with buds that are dense and bulky. On average they have higher levels of THC, the compound responsible for creating a "high" or euphoric feeling. This type of cannabis is grown for medicinal or recreational use and can contain anywhere from 2% to over 20% THC.
Sativa plants tend to have long leaves with thin blades and long loose-shaped flowers. They have lower levels of THC and much higher levels of CBD. This species of cannabis is approved for industrial hemp production and produces only minute amounts of THC, typically less than 0.3%.
4. CBD & THC Are Cannabinoids
Cannabinoids are natural compounds found within the cannabis plant. Of the over 100 cannabinoids, CBD and THC are two of the best-studied. Cannabinoids such as CBD and THC interact with the body's endocannabinoid system.
CBD and THC can be taken into the body orally, topically, and through inhalation. CBD and THC have the same molecular makeup. However, their atoms have different arrangements and therefore affect the body in different ways.
5. CBD Does Not Cause A High
CBD Is No Longer a Controlled Substance
CBD, also known as cannabinol, is a natural compound found in cannabis plants. It was discovered in 1940. It is especially abundant in industrial hemp. As of December 2018 it is no longer listed as a "Schedule I" controlled substance. Hemp CBD products may contain a small percent of THC, but to qualify as a legal hemp product CBD oil must contain less than 0.3% THC.
CBD does not have the same psychoactive properties as THC. It is not known to cause changes in brain function that result in alterations in perception, mood, consciousness, cognition, or behavior associated with marijuana's high.
THC (Marijuana) Is Still A Controlled Substance
THC or tetrahydrocannabinol is another natural compound found in cannabis plants. It binds with the cannabinoid 1 (CB1) receptors in your brain. It is responsible for the euphoric mind-altering high associated with marijuana. CBD, on the other hand, binds very weakly if at all.
THC is considered a controlled substance. It is known for suppressing muscle spasms and convulsions, helping with relaxation and pain. Scientists continue to look into the medical benefits of marijuana, but as of June 2018 the US Food and Drug Administration (FDA) has not recognized or approved the marijuana plant as medicine. However, several states have legalized marijuana for recreational and/or medical use.
THC may cause temporary side effects as part of the compound's psychoactive properties. These include problems with coordination, increased heart rate, and increased anxiety to name a few.
6. CBD Products Are Easy To Use & Here To Stay
Both CBD and THC can be taken into the body orally, topically, and through inhalation. CBD however, is well tolerated with little or no known side effects and does not cause a feeling of being "high." Some of the most popular forms of delivery include tinctures, roll-on gels, and balms.
While the legalization of marijuana (on a state level) is growing in the U.S., acceptance is still controversial due to its psychoactive properties. Meanwhile, products containing CBD are gaining in popularity and are becoming more widely available.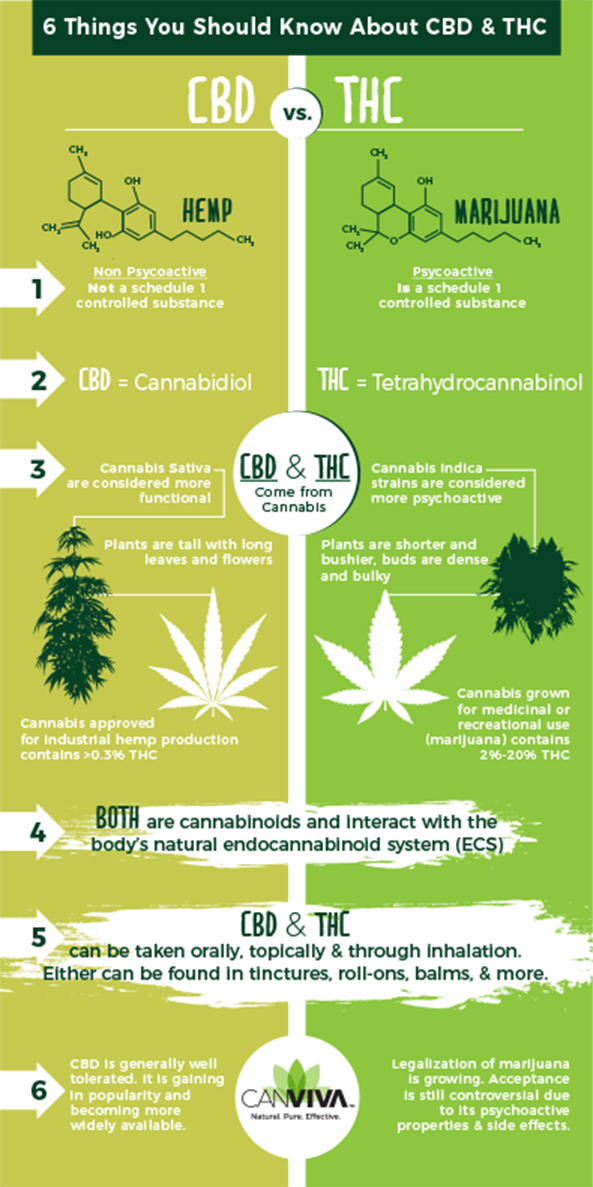 ---
If you want to learn more about CBD Oil and CBD products, sign up for our newsletter or visit our website. If you can't find what you're looking for, ask us.